The 1873 McDonald Cottage features stories of events in the district over time.
Below are list of the past stories we have displayed in our Costumes in the Cottage feature
Latest Display - Headmaster of Morrinsville School
The headmaster of the Morrinsville School was on stage at the new Empire Hall in Studholme Street Morrinsville when for the first time the annual school concert was presented by the staff and pupils at the school.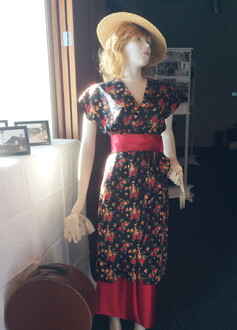 Lois Echlin is waiting at the Morrinsville Railway Station for her friend. They are travelling from Morrinsville to Auckland by Train
Railways Display
Our railways display showed information about when the railway came from Auckland to Hamilton and then to Morrinsville in 1894. Included in this display were the costumed mannequins of people who lived in Morrinsville, and who would have used the train to go to Hamilton or Auckland.
Influenza Epidemic
The Influenza Epidemic struck New Zealand in 1918 after the finish of the First World War. Over 9000 people in New Zealand died from this epidemic over a two month period. Our cottage display showed a house that had two women who were responding to the needs of the families where people had fallen ill with this deadly influenza.
Croquet Club
The opening of the Croquet Club in Morrinsville was an occasion that meant time to dress up and attend the garden party to celebrate. Our display in the cottage was a happier event with four mannequins dressed to go out for the day.
Up and Coming Display
Every six months we have a new display in the cottage.
The next display will be ready for February 2022.
Opening Hours
Monday to Friday from 11.00am to 4.00pm
First Saturday of the month open for Morrinsville Market Day from 9.00am to 1.00pm
Sunday from 11.00am to 3.00pm.